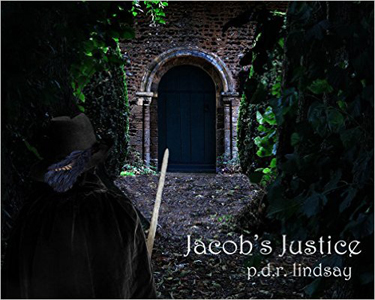 'Jacob's Justice' by p.d.r.lindsay
It's 1642, and mighty England is tearing itself apart. Twenty-three year-old lawyer Jacob Emerick, the youngest son of the Merchants Emerick, shipping owners, is sent on a lawyer's mission to save the family's gold and ships - and perhaps tilt the tide of England's war. He leaves cosmopolitan London for the narrow minded small Puritan town in Kent, where he must negotiate with lenders prepared to seize everything the family owns. Corrupt King Charles wants the family's fortune, and loyalists to the King will do anything to help their despot.
His journey barely begun, at a resting place on the trail Jacob finds the dead body of the lawyer with whom he was to work. It's a plain case of murder, and Jacob becomes the prime suspect. Jacob must free himself from that charge, and fend off the treachery of Lady Fowke, staunch supporter of the King, as well as the attempts of bigoted Puritans to take control of the Emerick ships.
Jacob navigates through the attentions of other loyalist thugs who ravage and murder, and the bigoted Puritans who just as determined to use his family's gold. In a few short months Jacob sheds the easy bravado of privileged youth and become a deep thinker, powerful fighter, and his own man.
Jacob has been a favourite among the Civil War buffs.
Review extracts
This is an historical fiction mystery set in the period of time leading up to the English Civil War, and told from the perspective of the ordinary man, a point of view not used enough in historical fiction. I particularly liked that the language is true to the time period in England, and it is used in a natural way so characters sound right for the time. The characters develop as the story is told, but it is Jacob's character that undergoes the most change, and in such a way you feel a part of his growing.
AND
Jacob Emerick is the lawyer for his merchant family. He's young, cocksure, and not particularly likable, but as he travels through this adventure that connects personal tragedy with the political turmoil of 1642, young Jacob matures and manages to endears himself to the reader.

Any reader of historical fiction will enjoy the detailed background to this novel I and will find herself immersed in the time period. The political situation is made clear, but also the reader is given a thorough and most enjoyable trip into the lines of ordinary people.