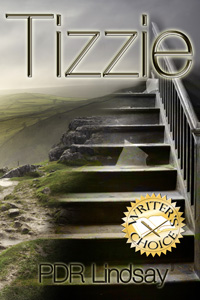 Reader's review.
My original plan was to give this 4 stars - I was thinking to myself (now that's a strange phrase, isn't it? After all, who else would I be thinking to???) that I really, really liked it, probably 4 1/2 stars worth, but that I couldn't say "it's amazing" because I don't think it's a book that's going to "stay with me a long time / forever". However, once I started writing this review (and this part is a prequel) I had to look for phrases that I wanted to quote and that took me forever because there are so many, and because I got caught up reading large segments all over again, and I was getting emotionally involved again and so angry with some of the people in this book and so wrapped up in Tizzie's appreciation of the world .... and when this gets made into a movie (hey, p.d.r., have you sent it to a scriptwriter yet?) I'm going to be its biggest fan. So it gets 5 stars!
Tizzie by p.d.r.lindsay
There's no slavery in the Yorkshire Dales, not in 1887, not ever. But loving families use artful schemes to enslave the innocent. Twenty nine year-old Tizzie is such an innocent. She has worked herself down to skin & bones as a dairymaid on the farm of her 'dear' brother, Jack, his Scottish wife, Maggie, their three boys and one girl, Agnes. Expert at many things, though not in spotting conniving entrapment, Tizzie longs to see that young Agnes will not suffer her spinster fate. In trying to help Agnes find an education and avoid a life of drudgery in their male-dominated world, Tizzie begins to suspect and then uncover Jack & Maggie's treachery, & the family's plots to enslave and use up Agnes too. With only her wits to guide her, Tizzie tries to right years of wrongs and set Agnes free.
As a semi-finalist in the M.M. Bennett Historical Fiction Award I was interviewed and 'Tizzie' reviewed by writer and blogger, Steve Wiefenstein. Check out his blog here. Look for the June 12th entry headed M. M. Bennetts Finalist Review and Interview 6
'Tizzie' was a finalist in the The Wishing Shelf Awards, and was read by 37 of their special readers who gave it 5 stars.
At Goodreads.com 'Tizzie' now has 50 ratings with an overall rating of 4.42 out of 5.
A charming review of 'Tizzie' was posted at the Review blog spot by Louise Rule
The Historical Novel Society have published an excellent review here. And, icing on the cake, 'Tizzie' was chosen as the editor's choice and was long listed in the Historical Novel Society's Indie Novel Award 2016.
Reviews are popping up everywhere: Nathan Lowell has a good review. And there are more reviews at Amazon and Goodreads. 'Tizzie' also made the best seller lists during the sales push ranking as high as 27 in the top 100 British Historical novels.
The Voracious Readers Group have been reading and reviewing Tizzie. Find them at Goodreads. Thanks to them all for the new reviews, all four or five stars, which have brought a pleasant rush of new sales. Here's one of their reviews:
I really enjoyed this book.
It took a while to get into, and the speech patterns were a little off putting at first, but once the story caught me I couldn't put it down.
The characters were very well rounded and came across as extremely real. It's written in such a way that you can almost see the village green and smell the dairy shed. It doesn't bore you with too much description, instead giving you just enough to let your imagination flesh out the details itself.
I received a complimentary copy from VRO in return for an honest review.
South Canterbury radio interviewed me about 'Tizzie' and writing in general.
You can listen to the fun we had during the interview by tuning in to the podcasts on the Plains Radio 96.9 FM Canterbury.
Find 'Tizzie' at: