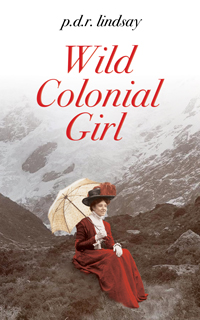 'Wild Colonial Girl' by p.d.r.lindsay
What? Leave India? Move to the colonies and make a new life there? Melisande, appalled, gazed at her brother and fiancée. She loved her life in India. She'd been cossetted, loved and happy there. Of course the plague meant a radical change, but they could still live on the family's small estate couldn't they? But, no. Brother Jeri didn't want to live in India, neither did fiancée Richard. Both young men, filled with excitement at the thought of adventure in the colonies, were determined to go, and Melisande must go with them. Her life turned upside down, rushed into her wedding, onto a ship and off to Australia, and finally New Zealand, Melisande has to learn how to run a home and cope with colonial New Zealand, a life so different from her Indian one. Can she make a home and a life as happy as her Indian one?
Reviews - I do love lovely reviews.
1st. 'p.d.r. lindsay succeeds in such a way that on finishing the book I was surprised to find that I was, in fact, still in the twenty-first century, and not back in the nineteenth century, so wrapped up was I in the story.' Beta reader review
2nd. 'I finished your book about a week ago and I really enjoyed reading it! Sometimes I feel like Melisande – poor girl! – was talking to me and she did make me laugh.'
3rd Thank you again for your interest in our website. We read and reviewed your book and enjoyed it very much. Here is a copy of our review - Five Stars The premise is delivered in a unique way that really makes the novel stand out from its counterparts, and I wholeheartedly recommend it to anyone looking for a top-notch historical drama seasoned with a touch of mystery and a good pinch of humour.
4th 'The synopsis of this story does not do it justice. There is so much more intensity to this story that is not discovered until you start to read it..... A wonderful read with mystery and drama but nothing too heavy or dark. Delightful and engaging. I highly suggest you give this book a try and feel warm from such a tender and curious read.'
So many kind reviewa at Goodreads and Amazon and Bookbub.
This book was entered in The Wishing Shelf Book Awards. This is what our readers thought:
Title: Wild Colonial Girl
Author: P D R Lindsay
Star Rating: 4 Stars
Number of Readers: 15
Stats
Editing: 8/10
Writing Style: 7/10
Content: 7/10
Cover: 3/5
Of the 15 readers:
12 would read another book by this author.
11 thought the cover was good or excellent.
15 felt it was easy to follow.
12 would recommend this book to another reader to try.
Of all the readers, 4 felt the author's strongest skill was 'plotting a story'.
Of all the readers, 8 felt the author's strongest skill was 'developing the characters'.
Of all the readers, 3 felt the author's strongest skill was 'writing style'.
9 felt the pacing was good or excellent.
12 thought the author understood the readership and what they wanted.
Readers' Comments:
"Having visited New Zealand many years ago, I was interested to check out this book for the awards. And I´m glad I did. Although it´s character-led, the New Zealand setting is a vital aspect of the novel. I also enjoyed getting to know Melisande and her family. It´s a bit slow to get going, but historical novels fans will enjoy it." Female reader, aged 44
"This is the story of a wealthy(ish) family heading off to New Zealand to start a new life. Personally, I enjoyed it a lot. I didn´t feel the plot was that exciting, but the author´s ability to develop fascinating historical characters is excellent. It was exciting following Melisande as she attempted to fit in and run her home. Well, perhaps exciting is not the word, but I was very happy to keep on reading to find out what would happen. I laughed a lot too; the author has excellent comic timing." Female reader, aged 31
"I liked that the author knew so much about New Zealand culture but didn´t overwhelm me with long setting description. I thought she was clever at integrating the historical setting into the story. Fascinating read!" Male reader, aged 62
"A thoroughly agreeable historical novel with a good mix of humour and drama. A good book to enjoy over a glass of wine and a warm fire." Female reader, aged 70
To Sum It Up:
'A powerful, character-led story of a woman determined to be all she can be in a distant land.' The Wishing Shelf Book Awards
Thanks also to the Voracious Readers reading and reviewing the novel.